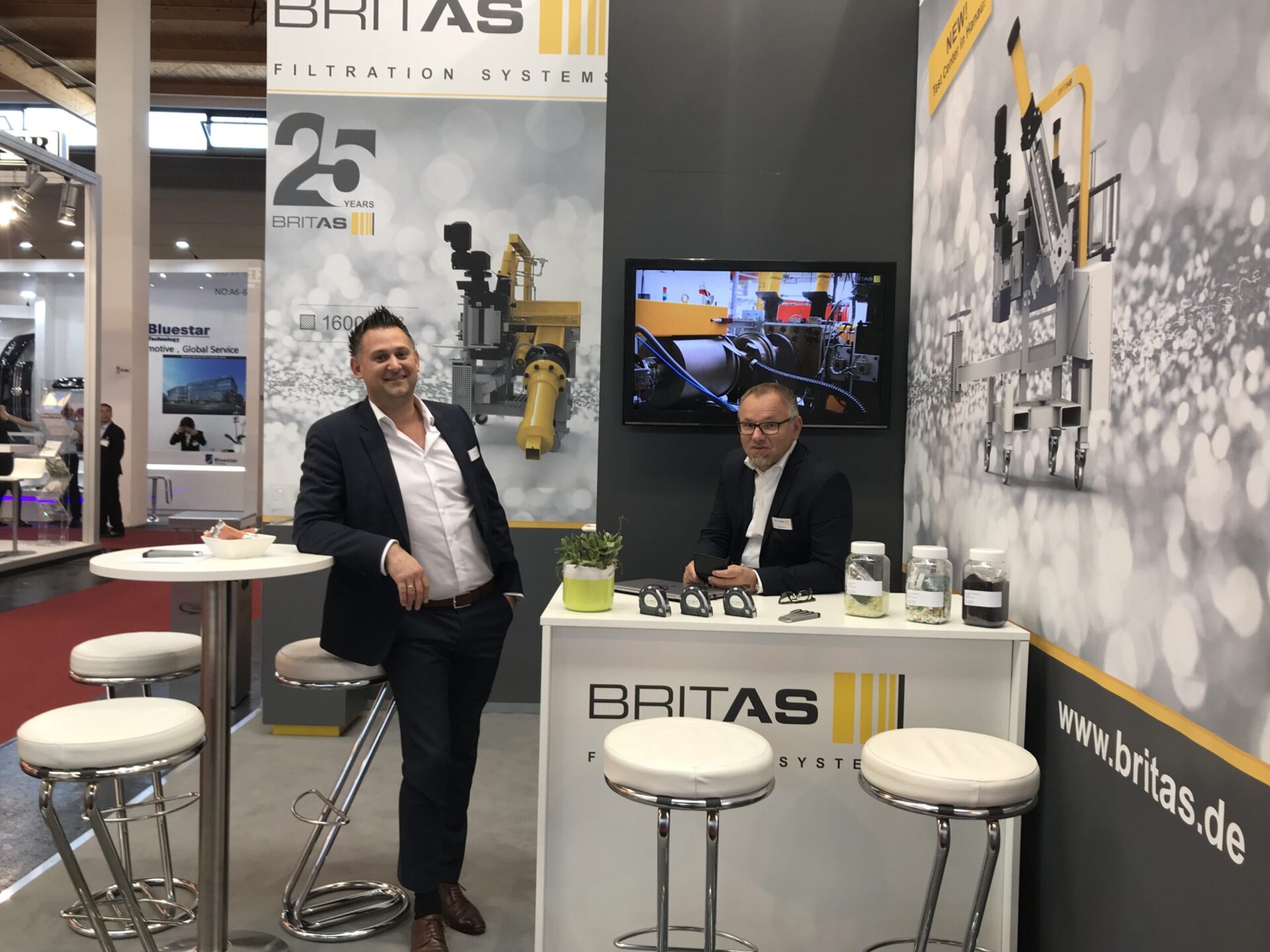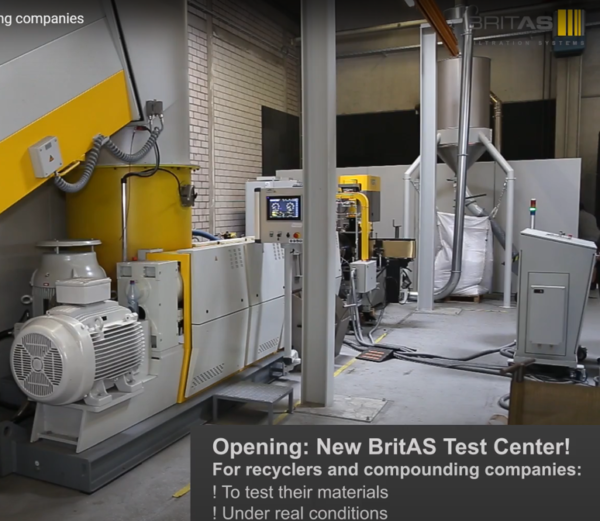 BritAS at the Fakuma – Hall A6, Booth 6307:New test centre with complete extrusion line in Hanau - Innovation ABMF PET - ABMF 1600 very successful on the market
BritAS test centre – Any plastic waste can be tested under real conditions
Since a short time ago, BritAS has a new test centre in Hanau/Germany – there, recycling and compounding companies can perform test runs with their materials.
"For customers, it is an advantage that now, with the test line, we can test any plastic waste. The line can be installed either with the BritAS ABMF-0750-09 or the BritAS ABMF-0750-09-C. With that possibility, our range of service is increased even more and our position in the market is strengthened ", explains DI Dr. Friedrich Kastner, CEO BritAS. "Moreover, our customers can test materials under real conditions. No matter whether it is post-consumer or post-industrial material.
"Additional components of the line are a NGR C-Gran 85-110 VV HD with double degassing (cutter compactor) with a throughput of up to approx. 420kg/h as well as a die face pelletizer.
Innovation ABMF PET – perfectly adapted to processing parameters of thermoplastic plastics
"With the ABMF PET, we have increased our range of products again. Both, temperature control and heating capacity are designed for higher processing temperatures. Furthermore, for the lower viscosities, the filter sealing is optimized by a die guiding. Of course, also the filter surface and the channel guiding are designed for throughputs with PET ", explains DI Dr. Friedrich Kastner, CEO BritAS and Thomas Lehner, Director Sales BritAS. At the moment, the ABMF PET is available with a filter surface of 570 cm2.
ABMF 1600 very successful on the market – established and proven technology & 50% more output
The Automatic Belt Melt Filter ABMF 1600 is very successfully accepted by the market. "The advantage of this BritAS melt filter is that it ensures even more throughput and improved filtration. With the ABMF 1600, we have increased the filter surfaces by 50% and meet the requirements of our customers."
The ABMF series has proven itself for decades. The BritAS ABMF filter series filters contaminations effectively and efficiently out of plastic waste. BritAS filters are used in the post-consumer sector and for agricultural films but also for post-industrial waste.
BritAS Recycling-Anlagen GmbH – Kastner, Verstraten and Invest AG majority shareholders
BritAS with headquarters in Hanau/Germany develops and manufactures lines for the filtration of plastic waste and machines for quality control of plastic products. By permanent measurements, the latter ensure the quality of the pellets during production.
BritAS is the fully owned subsidiary of NGA GmbH with headquarters in Grieskirchen/Austria, whose majority shareholders are DI Dr. Friedrich Kastner, Corné Verstraten and Invest AG.
NGA develops testing devices and lines for the plastics industry. These include solutions for the characterization as well as filtration of polymer melt, automatic screen changing systems, laboratory and test lines for plastic processing as well as recycling machines. Furthermore, in the field of R&D, NGA offers plastic-related consulting, tests and simulations. For that, NGA sells machines from Collin and BritAS.