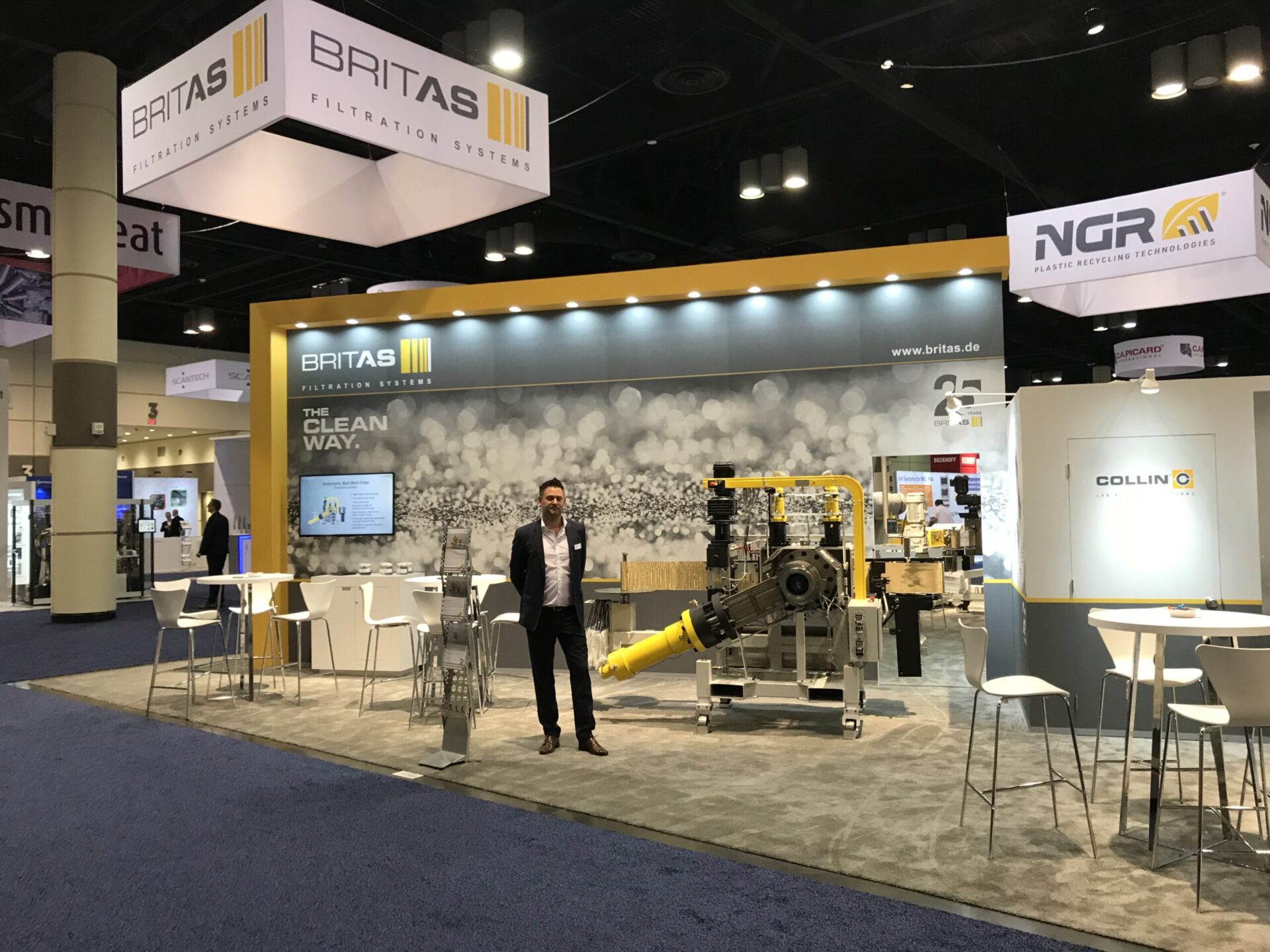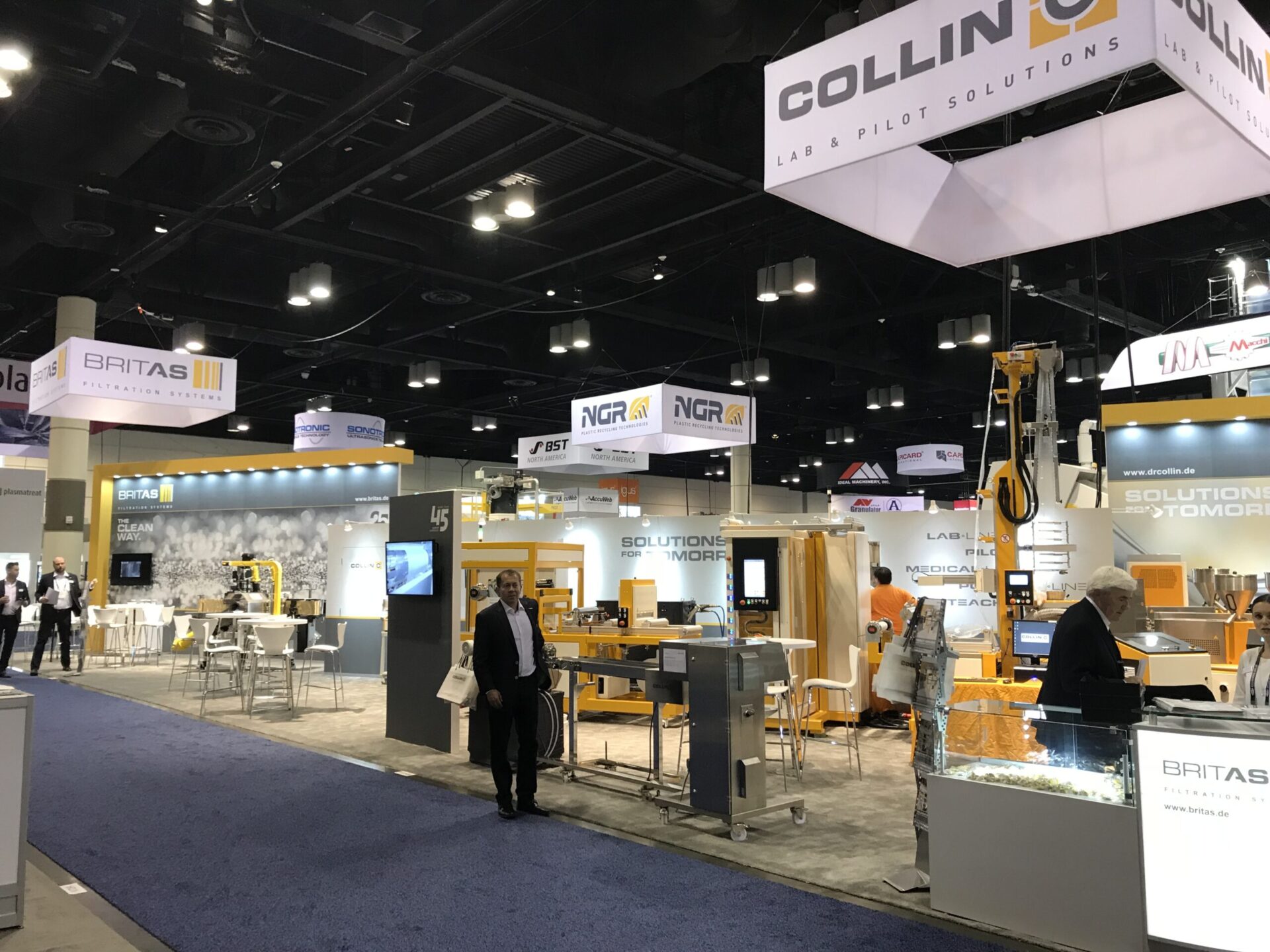 BritAS at the NPE 2018:Debut: Presentation of the innovation ABMF PET Opening: New test center in Hanau/Germany - Anniversary: 25 years BritAS Recycling-Anlagen
At this year's NPE, in Hall E, Booth W7263, the filter expert BritAS shows its latest product innovation, the ABMF PET for the first time. This type of automatic belt melt filter is optimally adapted to the processing parameters of thermoplastic plastic.
"With the ABMF PET, we are expanding – after the introduction of ABMF 1600 – our range of products again. At the ABMF PET, temperature control and heating capacity are designed for higher processing temperatures. Furthermore, for lower viscosities, the filter sealing has been optimized by a die guidance. Moreover, filter surface and channel guidance are designed for throughputs with PET. We also could optimize the insulation, which results in a reduced loss of energy", explain DI Dr. Friedrich Kastner, CEO BritAS and Thomas Lehner, Director Sales BritAS.
The BritAS ABMF filter series filters contaminations effectively and efficiently from plastic waste. BritAS filters are used in the post-consumer sector and for agricultural film waste, but also for post-industrial waste and by compounding companies. At the moment, the ABMF PET can be delivered with a filter surface of 570 cm2.
ABMF 1600 – proven technology & 50% more output
Recently, the Automatic Belt Melt Filter ABMF 1600 has successfully been offered by BritAS. "The ABMF 1600 ensures more throughput and improved filtration. With the ABMF 1600, we have increased the filter surface by 50% and can thus meet the requirements of our customers." An increased filter surface does not only result in an increased total output but also supports customers e. g. at considerably increasing degrees of contamination of their plastic waste caused for example by paper contamination.
The ABMF series has proven itself for decades. For a further improved melt flow, the inner workings of the ABMF 1600 have been optimized. "In addition, the increased motor capacity of the belt take-off and the belt magazine are also new", says Dr. Kastner. The ABMF 1600 is available in the combinations ABMF-1600-12/15/19.
New test center in the year of its 25th anniversary
The BritAS team is not only happy about the debut of the ABMF PET but also about an anniversary. "This year, we celebrate 25 years of BritAS and we do not only present us but also our customers with a new, fully equipped test center ", gladly explain Dr. Kastner, CEO BritAS and Heiko Henss, Plant Manager BritAS.
"There, for recycling and compounding companies, we offer the possibility to test their materials under real conditions. The BritAS test center is equipped with an ABMF-0750-09, an ABMF-0750-09-C – also two different filters for any type of plastic waste, a NGR C-Gran 85-110 VV HD with double degassing (cutter compactor) with a throughput of up to approx. 420 kg/h, a hot die face pelletizer and our Gas Control GK 1500."
BritAS Recycling-Anlagen GmbH
BritAS with headquarters in the German city of Hanau develops and manufactures on the one hand lines for the filtration of plastic waste and on the other hand machines for quality control of plastic products. By permanent measurement, the latter guarantee the quality of the pellets during production.
7 – 11 May 2018