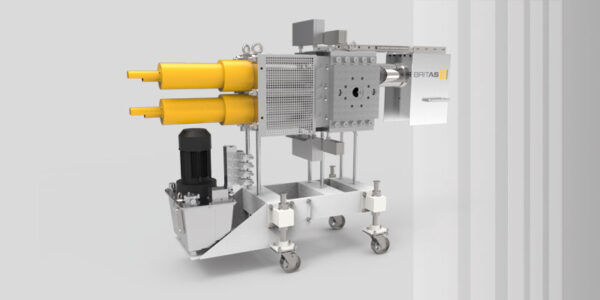 BritAS at K 2019, hall 9, booth B 28: Public launch of NEW Piston Screen Changer seriesIdeal for less contaminated industrial & production plastic waste - Discontinuous & continuous Piston Screen Changer variety - Perfect addition of BritAS portfolio ABMF, ABMF 1600 & PET
The new BritAS product series Piston Screen Changer celebrates its premiere on this K show! The series consists of four plants – discontinuous and continuous variants that cover all customer requirements. The BritAS pin screen changers are designed for the recycling of plastic waste that is less polluted.
"We are delighted to announce our latest innovation – the CMF (Continuous Bolster Screen Changer) and DMF (Discontinuous Bolts Screen Changer) – to the trade public at K 2019. In doing so, we are expanding our product range and serving customers who want to recycle waste plastics with less pollution, "explains DI Dr. Friedrich Kastner, Chairman / Managing Partner BritAS Recycling-Anlagen GmbH.
BritAS Piston Screen Changer – 4 different types of all applications
"These systems are primarily used in the post-industrial, post-production and new-product sectors. Depending on required flow rates and different operating modes, customers choose between the discontinuous version – commonly with one piston – or the continuous one – with two pistons version", describes Thomas Lehner, CSO / Managing Director BritAS Recycling-Anlagen GmbH.
Basis versions are the CMF as automatic continuous piston screen changer, and also the DMF as discontinuous piston screen changer in square or round execution. "The DMF-rd is a round case that is heated with ceramic heating bands. This filter is the most cost-effective filter version and is mainly used as a pre-filter for coarse contaminants, as a pump protection or used in reduced space conditions (co-extrusion)", explains Heiko Henss, COO / Managing Director BritAS Recycling-Anlagen GmbH.
The DMF-sq is suitable for higher temperatures (up to 350°C) and higher pressures (up to 500 bar) due to its square housing and is heated with heating cartridges. Both types can be used for polyolefins, melt adhesives and for many engineering plastics too.
Highlight Continuous Piston Screen Changer with back flush function
The CMF-BF is able to clean the screens automatically. The back-flush attachment includes two pistons which automatically perform the back-flushing process.
When a filter change is required, one of the two back-flush pistons is moved into the back-flush position first. As a result, the melt inflow of the corresponding filter is interrupted. A small melt stream of already purified material is diverted and passed backwards through the filter to be cleaned and discharged to the outside. Subsequently, this process is automatically repeated for the second filter.
These new product series completes the existing portfolio ABMF, ABMF 1600 and ABMF PET. The BritAS filter series ABMF removes contamination effectively and efficiently out of plastic waste. BritAS filter machines are mostly used in post-consumer application and at agriculture film waste, as well as for postindustrial & post production waste and at compounders.
ABMF 1600 – proven technology & 50% more output
"The ABMF series has proven itself for decades. The ABMF 1600 ensures more throughput and improved filtration. With the ABMF 1600, we have increased the filter surface by 50% and can thus meet the requirements of our customers", so Heiko Henss.
An increased filter surface does not only result in an increased total output but also supports customers e. g. at considerably increasing degrees of contamination of their plastic waste caused for example by paper contamination.
ABMF PET – filtration technology for PET
At the ABMF PET, temperature control and heating capacity are designed for higher processing temperatures. Furthermore, for lower viscosities, the filter sealing has been optimized by a die guidance. Moreover, filter surface and channel guidance are designed for throughputs with PET.
16.10.-23.10.2019